Bridges are usually used to make a miraculous connection between two separate places. They also allow us to pass a river, lake, valley, etc. In these modern days, beautiful bridges are becoming a symbol of many countries. Now we can see the roaring waters from great heights without any risk. It is a fact that these cool bridges create some of the most graceful and stunning views in the world. People came from across the world to watch these stunning places. Following is the list of the 10 most beautiful bridges in the world.
10. KHAJU BRIDGE, ISHAFAN, IRAN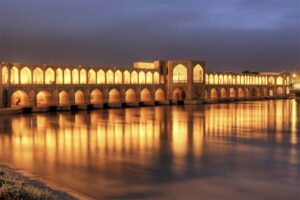 The Iranian bridge is very popular among tourists. It is the finest and most amazing example of Persian architecture located in Isfahan province. It is one of the most unique bridges which perform different tasks. It connects the two banks of the Zayandeh river. Working as a dam is also its duty so that it can separate the rivers into two portions with different water levels.
9. BIXBY CREEK BRIDGE, BIG SUR, CALIFORNIA, USA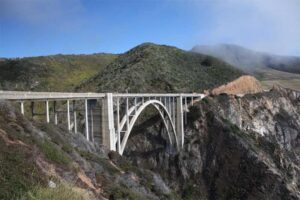 Bixby Creek is fully completed in 1992 and is completely made up of concrete. It comes at number 9 in the list of beautiful bridges and marked its name in the highest bridges as well. When you will see the whole structure of this bridge then you will realize that making it wasn't exactly a cakewalk. People come across the world to visit this stunning and peaceful place. Due to its marvelous design and structure, it is one of the most photographed bridges.
8. TOWER BRIDGE LONDON, UK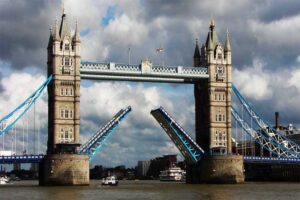 The main motive behind the construction of this Tower Bridge is to ease road traffic while maintaining the river access to the London docks. This masterpiece is built with huge moveable roadways that lift for passing ships. A huge amount of the population reaches to see London's favorite icon. It is one of the most recognized bridges in the world.
7. SYDNEY HARBOUR BRIDGE, AUSTRALIA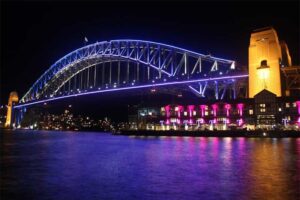 When the discussion begins about beautiful bridges then no list is complete without this steel arch bridge. The graceful view attracts people and that is the reason it has become the most famous and renowned International symbol of Australia. It is also popular with the name ''Coathanger'' due to its arched-based design.
6. PONTE DI RIALTO, VENICE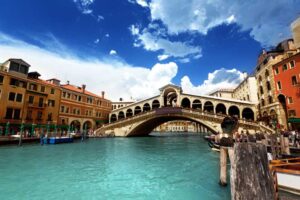 Its construction started in 1588 and it was completed in 1591. It was completed in three years. Its arched-based design admires people its 7.5-meter arch was perfectly designed to allow the passage of galleys. The structure of this cool bridge is massive and it was built on 12000 wooden pilings that will support the bridge.
5. BROOKLYN BRIDGE, NEW YORK CITY, USA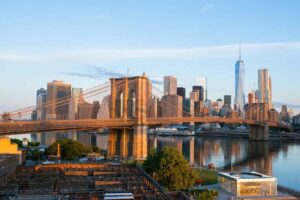 Brooklyn comes at number 5 on the list of beautiful bridges and is a suspension bridge. It connects the boroughs of Manhattan and Brooklyn by spanning the east river. The length in which it spans the east river is 486.3 m. Its construction began in 1869 and was opened after fourteen years.
4. MILLAU VIADUCT, FRANCE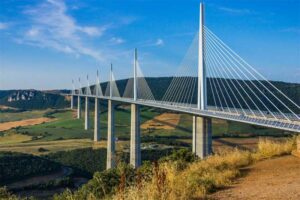 Its location is in Southern France and is well known among tourists. It is slightly taller than the Eiffel Tower and has a structural height of 343 meters. Huge money was spent on its construction and the cost of its construction was about 394 million. The time of three is used over its construction and when it was fully constructed on 14 Dec 29, 2014, and after two days it was officially opened to traffic.
3. PONTE VECCHIO, FLORENCE, ITALY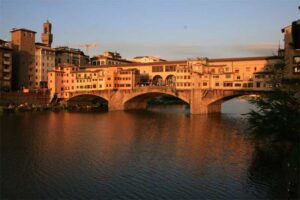 If you pay a visit to Florence and you don't spend time on its highly famous medieval arch bridge then all of your visits will go in vain. Firstly this masterpiece was built in Roman times but later on, it was destroyed by a flood. It was rebuilt over 14 centuries and the most astonishing part is that during World War 2 it was only a bridge that was not destroyed.
It has a huge history and all the shops for only butchers and fishmongers are present there. But after some time a decision was made that only goldsmiths and jewelers are allowed to open their shops here which increases its beauty.
2. CHARLES BRIDGE, PRAGUE, CZECH REPUBLIC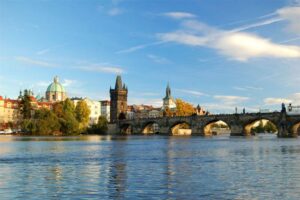 Another masterpiece in the list of beautiful bridges crosses the Vltava river and connects Lesser Town and Prague's Old town. Its length is 621 meters and the width is nearly 10 meters. People have a huge craze for visiting this graceful place. The thing which makes the beauty even more stunning is that it was perfectly decorated by a continuous alley of 30 statues and statuaries. From the bridge, tourists enjoy the eye-catching panoramic view of Prague Castle.
1. GOLDEN GATE BRIDGE, SAN FRANCISCO, USA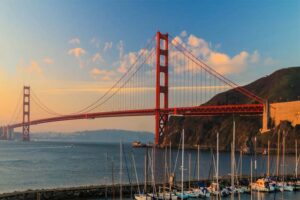 Golden Gate is leading the list with its marvelous and stunning beauty and is an internationally recognized symbol of the USA. It is a suspension bridge spanning the Golden Gate and was highly famous among tourists. American Society of Civil Engineers declared it as one of the Wonders of the Modern World.
Read also: 
Top 10 fastest cars in the world
Top 10 Most Scariest Places in the World
Top 10 most beautiful cities in the world
Top 10 World's Most Dangerous Roads