Travelling is often boring especially when you are traveling for a long route. But when you are driving on exquisite highways then definitely you will enjoy your drive. On these highways, you will find the most amazing view of beautiful oceans, breathtaking waterfalls, and glamorous green forests. The exciting journey that you will experience on these beautiful highways is unforgettable. Enjoy your drive by discovering different magnificent sceneries. Because sometimes the destination is not very important the only thing matter is how cool your journey is. Following is the list of 10 beautiful highways.
1. The Milford Road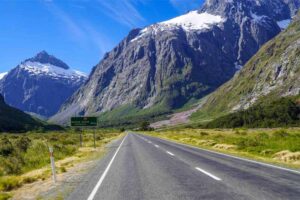 This beautiful 144-mile long road will admire people with its stunning sceneries. The Milford Road is basically a part of state highway 94 which connects Te Anau to Milford Sound. This road has its own magnificent attraction and you will never forget this marvelous journey present in the heart of Fiordland National Park. Travelers will see graceful rainforests, crystal clear lakes, and jaw-dropping waterfalls. You will find many amazing places which are best for taking photos.
2. Scenic Highway 12, Utah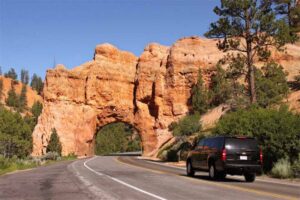 Also famous with the name of State Route 12 is at number 2 in the list of beautiful highways. Its attitude is basically 5000-9000 feet above from the ground. You can reach to this amazing road through US 89 or the other away is Highway 12. Grand Staircase-Escalante National Museum and State Park museum is highly famous among the tourist.
3. The Jebel Hafeet Mountain Road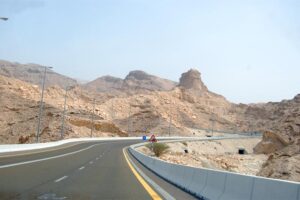 The length of this amazing road is 7 mile and is snaking towards the second topmost peak in the United Arab Emirates (UAE). Travelers experience the stunning view of a panoramic glimpse of the Al Ain town which is located below this mountain. Restaurants and hotels are also available for the travelers so they can stretch their legs and then again start there unforgettable journey.
4. Great Ocean Road
Enjoy the beautiful view of sceneries and breathe in the salty air and see those glamorous views of nature with your own eyes. Enjoy the most comfortable drive along the eye-pleasing south-eastern coast of Australia. This road runs actually from Torquay Warrnambool in the domain of Victoria and offers breathtaking and dramatic coastal views that will actually blow your mind. Different restaurants, museums, and beaches also an astonishing part of this journey. Majority of people have a dream to drive on this road because it also passes The Great Otway National Park, Apollo Bay, Twelve Apostles, and Shipwreck Coast. You will find a lot of exciting places on one route that sound amazing.
5. Overseas Highway, Florida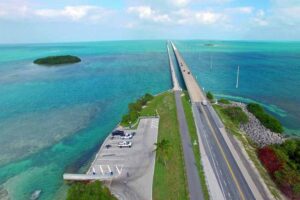 The Overseas Highway is actually built in 1930's the path of railroad track which is now obsolete. There is a time in past when this railroad track crossed over the Florida Keys. This 113 miles elegant and magnificent Overseas Highway operates as a southernmost leg of US 1 and the amazing part is that it basically extends from mainland Florida to Key West. The view of turquoise water is amazing and eye pleasing. Everyone loves to pay a visit to this location because it is very magnificent and peaceful.
6. Stelvio Pass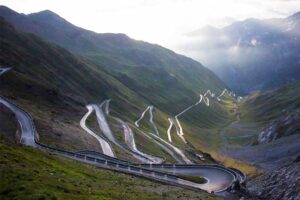 Stelvio Pass is located in Italy close to the Swiss border. A huge amount of people come and visit this place and that is the reason it is one of the most visited roads. But the bad thing about this beautiful highway is that it is also in the list of most dangerous roads in the world. Built-in 1820's having 60 hairpin turns, is a famous and ideal route for bicycles races and rallies of motorcycles. Stelvio Pass has made a huge name in the heart of bicycle and motorcycle racers and now is the highest drivable pass in the Eastern Alps.
7. The Atlantic Roadway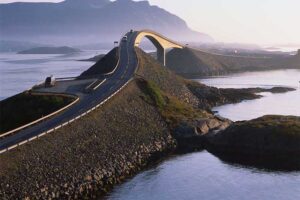 The Atlantic Roadway is also known as National Tourist Route. A large number of tourists come and visit this exciting place which is the part of Norwegian National Road 64. This beautiful highway was firstly opened in 1989 and now has four views. Ideal place for taking pictures and passing your free time. The whole scene is very delightful and peaceful and also a huge area is available to accommodate a large number of tourists. Driving on this elegant and delightful route is a dream for many people.
8. Cabot Trail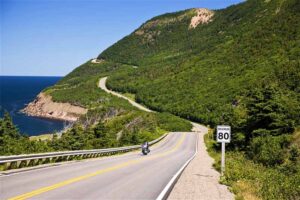 This glamorous route is full of green forests and beautiful sceneries that attract travelers. Along the exciting route, different hotels, restaurants, museums and stunning galleries came which are another reason for attractions.
9. Col de Turini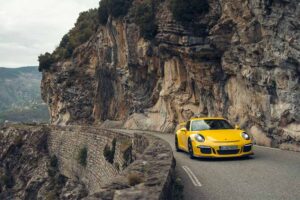 This road has many tight turns and huge heights so if you got sick or scared of these dangerous curves you have the option to skip this route. It is basically located in the south of France and reaches the elevation of 5200 feet. The astonishing part is that Col de Turini is also used for the Monte Carlo Rally car race. The whole sight was amazing and delightful, such a peaceful place that really admire travelers. Before driving on this route make sure that you must have good driving skills because it contains many tight turns, So driving on this curvy road is not that much easy.
Read also:
Top 10 fastest cars in the world
Top 10 Most Scariest Places in the World
Top 10 most beautiful cities in the world
Top 10 World's Most Dangerous Roads