According to doctors, fast food is not good for your health but this reality that these fast food chains are running successfully all over the world. The majority of people have craze about this crispy and tasty food. If you follow a healthy lifestyle and do proper exercise daily then you can have your cheat meal once or twice a weak. But if you are in dieting mode and want to lose calories then you have to say no to this food. But for sure that is the most difficult part.
Does the next question arise where we can find this tasty food?? Even when we are traveling and feel hungry we also in search of these kinds of places. Now all those famous brands which provide fast food services are easily available everywhere. Now people don't have to waste time finding out these places. Everyone can even enjoy the brilliant taste of these fast food brands even at home by placing an order online. We eat a lot of meals from these leading brands but have you ever think about which is the largest fast food chains in the world?? This topic will cover all those big names that have a very good reputation all over the world and also doing great business. Following is the list of the largest food chains.
10. Papa John's Pizza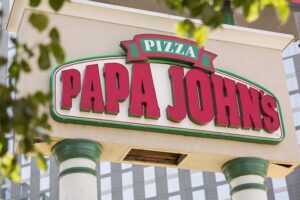 Papa John's have is very famous in the United States and also is the 4th largest pizza delivery service there. Papa John's Pizza service is available and running successfully in 34 countries. Its founder is John Schnatter who firstly open this restaurant in 1984, Indiana. The total number of its restaurants are 4000 and out which 3200 are situated in the U.S. Their main motive is to provide the best possible services to their customer. That is the reason better ingredients and better pizza is their slogan. It comes at number 10 in the list of the largest food chains its net value is $1.4 billion and over 205000 employees are working in Papa John's.
9. Dairy Queen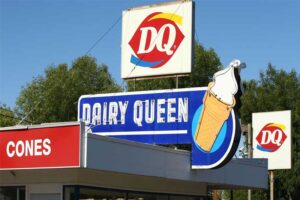 Dairy Queen is running successfully in 18 countries and its service is available in 6000 different locations all over the world. This brand is famous worldwide but the most number of Dairy Queen Restaurants are available in U.S Texas. John Fremont McCullough is the creator of Dairy Queen. He made this popular brand in 1940. If a personal visit to Dairy Queen and doesn't taste their Soft serve ice cream then surely he is missing something that is very tasty. Because Soft serve ice cream is the signature product of this brand. They also serve French fries, burgers, frozen treats, hot dogs, and processed fried chicken. A reliable and valuable name in the industry of fast foods.
8. Dunkin Donuts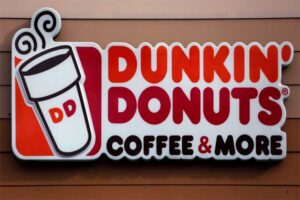 Dunkin Donuts comes at number 8 in the list with has 11000 restaurants in 3 countries. Dunkin Donuts basically operates in 3 countries and their main focus is to baked goods and coffee service. They successfully deal with baked goods, sandwiches, hot and iced beverages, and soft drinks as well. All of them are their main products which are highly famous because of their extraordinary good taste. In 1950, their first store opened in Quincy City of Massachusetts. Their coffee is amazing and it is available in thousands of different flavors. That sounds good, their first priority is to satisfy the customer with their outstanding services.
7. Domino's Pizza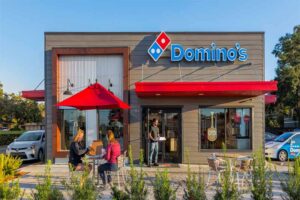 The second largest pizza delivery service in the United States having 1000 stores running amazingly in 70 countries. Their pizza is highly famous among all fast food lovers. They also serve pasta, bread bowls, and Owen baked sandwiches. They are also their main products but no one can match the high standards of their different variety of pizza. In the drinks section, they serve Coca Cola. This company is generating a huge amount of revenue and one of the most successful brands in the world. Weekends are the busiest day for all their staff because they serve millions of pizzas. They also provide home delivery facility as well.
6. Burger King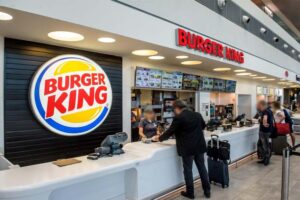 Burger King has marked its name at number 6 in the list of the largest food chains because this company has 13000 restaurants in 79 countries. The huge population makes their way towards Burger King and it is also the third largest burger chain service in the U.S. Whopper sandwich is their highly famous signature product, introduced in 1957. Burger King sales approximately more than 1.9 million whopper sandwiches all over the world.
5. Starbucks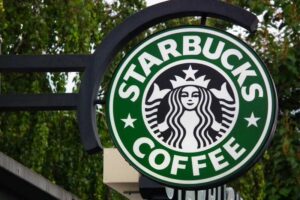 Starbucks is well known and also the largest coffee company in the world. Starbucks has 23187 proper stores across 64 countries and comes at number 5 in this list. Their 12973 stores are located in the United States. The main products that they served are wines, hot and cold beverages, snacks, and beer. They have a really good reputation and highly trusted brand across the world. Starbucks is founded by Jerry Baldwin in 1971.
4. Pizza Hut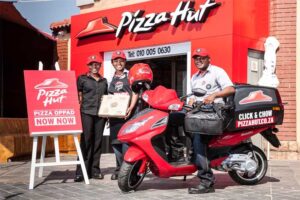 Everyone is well aware of Pizza hut they are the largest pizza delivering service in the world. They deal with a different flavor of pizzas and have 6000 restaurants in the United States. Their 5319 restaurants are running successfully in 93 countries. The quality and quantity of their pizza are amazing and that is the reason people have huge craze in it. Dan and Frank Carney are the founders of Pizza Hut. Pizza Hut achieves huge success in 2001 because it became the first-ever largest company to deliver pizza to the international space station which was launched on Soyuz spacecraft.
3. Subway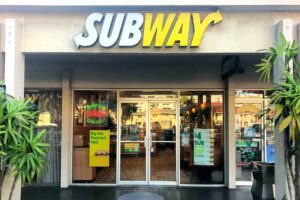 Another outstanding brand in the list whose services are operating 107 countries. Subway has a total of 42174 restaurants and Submarine sandwiches and salads are there highly famous and main products. On a daily basis, Subway serves 7.6 million sandwiches. Their signature product is Submarine sandwiches.
2. KFC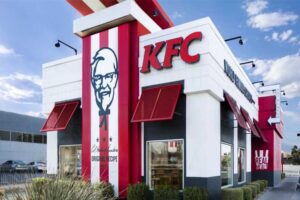 Kentucky Fried Chicken (KFC) is the second largest fast food chain in the world. Their services, taste everything is amazing. Everything is prepared under very hygienic conditions. Harland Sanders is the founder of KFC in 1930, Kentucky. Its picture is widely used in their logos and advertisements. KFC comes at number 2 having 18875 stores in 118 countries. The astonishing part is that the recipe of their world-famous pressure fried chicken pieces is still unknown to the outer world.
1. McDonald's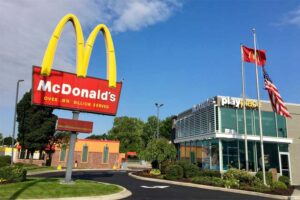 Top of the list and also leading the world this highly famous brand is the largest fast food chain in the world. People love visiting this excellent and exciting place. In across 119 countries they have 35000 outlets that are generating revenue in huge amounts. About 68 million customers pay their visit to McDonald's. It is not only famous among children and youngsters but also elder people also like this outstanding brand. No one can beat the high standard of McDonald's. Amazingly popular Hamburger is their signature product. The amazing thing is that it sells 75 hamburgers every little second. They also serve French fries, Chicken Sandwiches, soft drinks, and desert as well. Richard and Maurice MacDonald's begun this business in 1940, California.
Read also: 
10 Most powerful Nuclear Weapons Countries in the world
Top ten most expensive coins in the world
Top 10 fastest cars in the world
Top 10 Most Expensive Mobile Phones in the world