In this modern society mobile phones have become a major necessity for majority of people. Mobile phones market is increasing day by day and earning a lot of profit because mobile is now have become a most important part of everyone's life. Now a days it is the major source of communication and this advances cell phone is capable of performing multi tasks like taking pictures, storing and transferring data etc. Now it's the reality that the mobile phone can do all those work that computer does.
Mobile phones are available in market in different ranges some are very cheap and some are most expensive mobile phones in the world. If you visit to market you will find wide ranges of mobiles having different characteristics. Features, screen resolution, graphics, Ram etc. So it is clear that the phone with higher features is more expensive then the phone with lower features.
Following are the list of top most expensive mobile phones in the world.
10: iphone Princess Plus – $176,400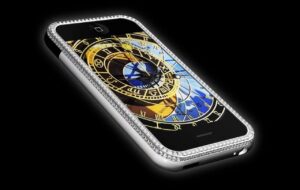 The iphone princess plus is designed by famous and most talented designer Austria, Peter Aloisson. The main features of this iphone is not much different from the other Apple phones, Its beautiful features makes it in the list of most expensive mobile phones in the world. As we all know Apple has make a revolution in the mobile industry. This phone is also called princess of all iphones because of the top quality and supreme arrangement of no less than 138 princess cut and 180 brilliant cut diamonds with a weight of 16.50 -17.75. This mobile is no less than a luxury because very high class brilliant diamonds are used in it. The first buyer of this master piece was a businessman form Russia. It's a remarkable phone because of its amazing features, specifications and has very clear large high resolution screen.
9: Black Diamond VIPN Smartphone – $300,000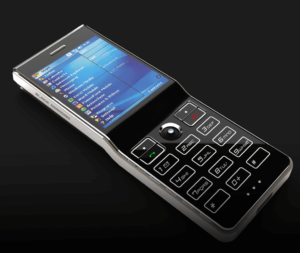 This stylish and adorable concept of Sony is created by Jaren Goh and is at no 9 in the list of most expensive mobile phones in the world. The design of this superb phone is amazing and it has latest technical specification with best features. Its screen result is brilliant a organic LED technology along with polycarbonate mirror is used in it. Two diamonds are used in this marvelous master piece. The one is used in navigation buttons and other is in the back of cell phone. 4 mega pixel high end camera along with 128 MB battery.
Some people may not like this phone because of its short internal battery. This is something very unusual for a phone of its class.
8: Vertu Signature Cobra – $310,000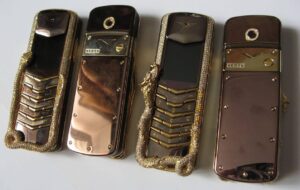 Vertu signature cobra is at no eight in the list of most expensive mobile phones in the world. The design of this phone is very unique and exclusive and existence of cobra snake on the side of phone makes it more adorable and pleasant for viewers. The thing that make this stylish phone more valuable is that there are 439 rubies beautifully fitted in a cobra design. It has two inch QVGA display with a resolution 240 X 320 TFT LCD display and this LCD is protected by sapphire crystal.
7: Gresso Luxor Las Vegas Jackpot -$1 million
Gresso is very well known for its expensive and stylish hand phones, they are on another level. This phone is there jackpot and the thing that make this exceptional phone so expensive is the black diamonds. These diamonds cover the front of the phone and 200 year old African blackwood cover its back. The solid gold ( 180 grams )was used in its manufacturing and that is the reason it is at no seven in the list of most expensive mobile phones in the world. This African blackwood is also in the list of most expensive woods in the world. Every single thing that is used in the manufacturing of this mobile is outstanding. A lot of people cannot buy this masterpiece because it's too expensive. The company also design the same phone without diamonds and its price is 20,000 US Dollars only.
6: Diamond Crypto Smartphone – $1.3 million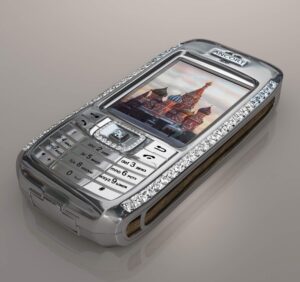 Peter Aloisson ( luxury accessories maker) designed this smart phone. This phone is totally based on Windows CE. The reason behind the existence of this super phone in the list of most expensive phones in the world is that 50 diamonds are used in it. Its beauty more flourish with 10 rare blue diamonds along with its metal parts which are beautifully casted in solid platinum 950. The most unique part of this phone is that two metal parts are made up of 18 carat rose gold. These two parts are Ancort logo and the Navigation key.
5: GoldVish Le Million – $ 1.3 million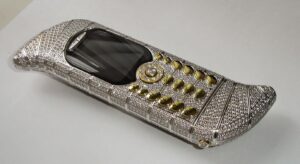 A famous designer Emmanuel Gueit designed Goldvish Le Million. Emmanuel Gueit has also designed many luxuries watches and adorable jewelries as well. This masterpiece mobile is awarded by Genius World Record because it is world most expensive mobile sold in France September 2006. The reason of the beauty of this mobile is that it is bejeweled with 18 k white gold and 20 carats of VVS1 diamonds.
4: iPhone 3G King's Button – $2.4 million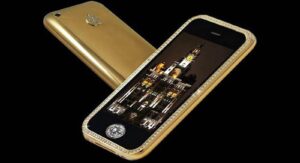 A very famous jeweler Peter Aloisson who is basically from Austria has designed and make this beautiful set. The reason it is too expensive is that 138 diamonds are installed in it. The glorious white diamond of 6.6 carats serves as the home screen button which flourishes its beauty. The whole peace is so unique and elegant that everyone wants to buy it.
3: Supreme Goldstriker iPhone 3G(32 GB) – $3.2 million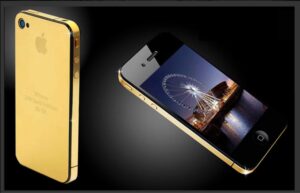 Its graceful casing is made from 271 grams of solid 22k gold and that's why it's very expensive. But it doesn't finish here the beautiful screen is trimmed with fifty three carats of brilliant diamonds. The home button enhance its beauty because it is elegantly covered with single very unique 7.1 carat glowing diamond.
2: Diamond Rose iPhone 4 (32 GB) – $8 million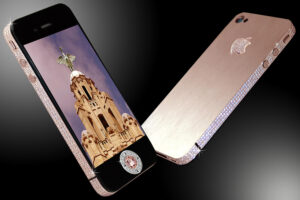 It is second in the list with the price of approximately $8 million. Its market value is very high because its bezel is made up of rose and roundabout 500 individuals stunning and flawless diamonds that total over 100 carats. Its elegant back is made of rose gold and the memorizing apple logo is completely decked with fifty additional flawless diamonds. You will never move your eye from this master piece because its navigation button platinum with interchangeable single cut with 7.4 carat brilliant diamonds present right in the center.
1: Black Diamond iPhone 5 – $15.3 million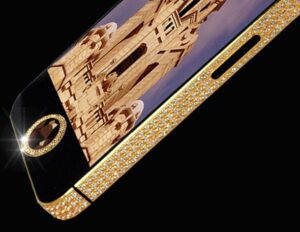 This beauty is leading the list and it's build by non-other than the most famous Stuart Hughes. The price of this smartphone is very high because it has been built with both black and gold diamonds. The most unique part is that it is completely a handmade device and it takes 9 weeks to build. It is said that 24 carat solid gold has been used in the preparation of its case. The all-time favorite and famous Apple logo and its edges are studded with exceptional 600 white diamonds. The beauty will enhance with the home button because it is made up of 26 carat black diamond. A Chinese billionaire who owns this marvelous cell.