Armenia is around 29,743 square kilometers which is, rather a small state. It is one of the hubs of ancient civilizations in the world. It has positioned at the crossroad of Europe and Asia and rich in culture. Armenia is an increasingly popular destination due to its beautiful places. It has blessed with histrionic, hilly landscapes, deep valleys, sparkling lakes, and gushing rivers. All of the scenery is stunning wherever you go.
There are around 4000 churches and monasteries in this state, and many of them are over a millennium old. If you are planning to visit Armenia, then you should visit these 10 beautiful places. Your visit here will be worth watching.
10. Bjni Fortress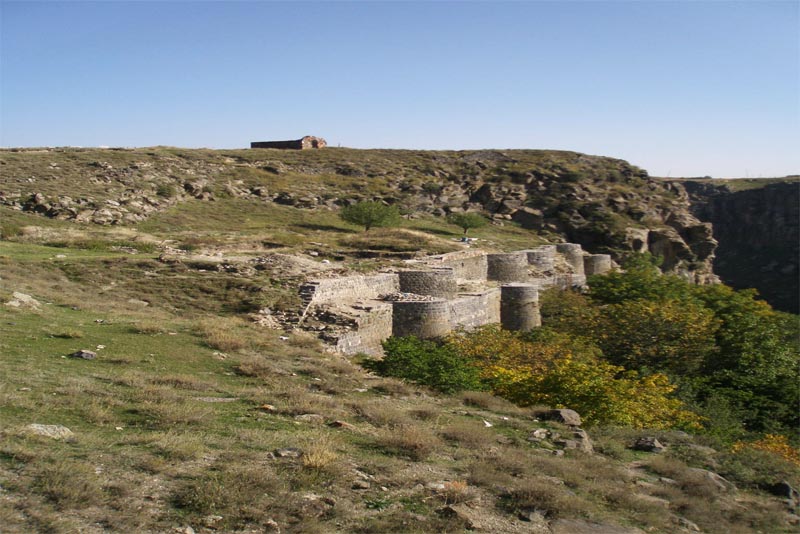 Bjni is a village in Armenia that has importance due to its ancient places. There is an out-of-date fortress stand high along the sides of a mesa. Even though a small part of this fortress had been preserved and exist in original form. During the visit, you can see and even climb up the stairs which, are one of the secret entrances of the fortress. You will feel that you are standing in ancient times.
This fort is around 46 km far from the capital of Armenia. You can go there by train and, even public transport is also using nowadays. Visitors can visit it in any season but, it is better to go there in dry weather as you don't want to ruin your trip with snow or rain. You can even visit the church of St. Astvatsatsin (the Holy Virgin) and St. Sarkis which, is nearby the fort. It was built in the 7th century and placed a the top of a high hill.
09. Khor Virap Monastery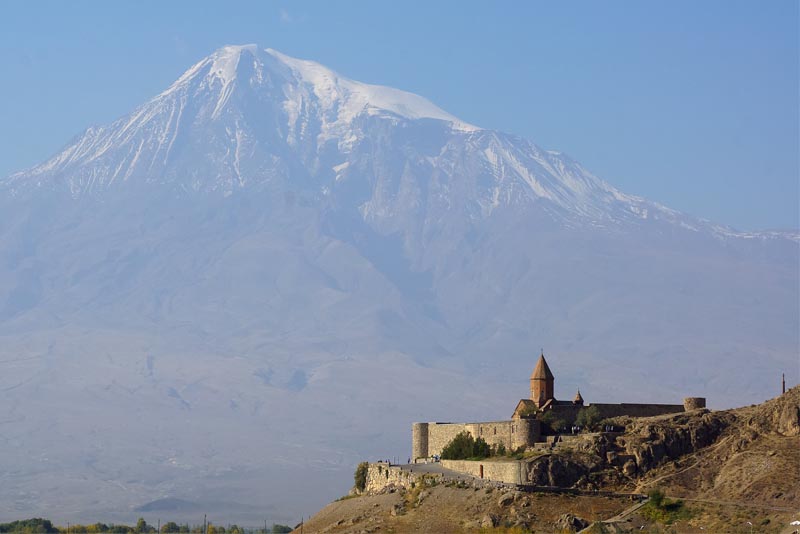 Another one of the beautiful places of Armenia is Khor Virap Monastery. It adds some jaw-dropping background, and this visit will be worth watching for you. A popular pilgrimage site, the monastery is famous in this state for its stunning background. Its attractive chapel was remarkably built-in 642 AD. Later on, further work had been done in different centuries.
08. Dilijan National Park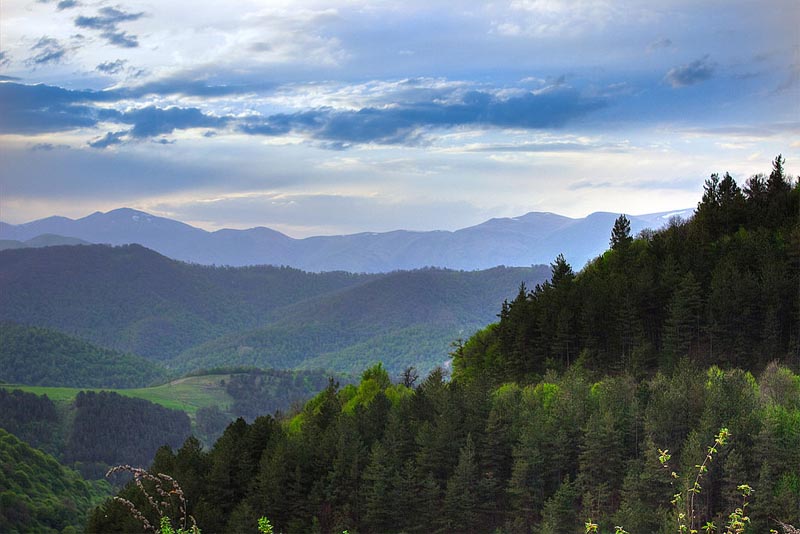 Dilijan national park is home to some stunning scenery. It is in the northeast of the state, which is adding pleasure for nature lovers and outdoor enthusiasts. These peaceful, rolling hills and mountain arrays that make up most of the national park's area has covered with endless forest. It has twinkling streams and babbling streams flowing through the undergrowth. Besides, it has fauna and flora, which are adding more beauty to this park. It has also some wonderful old monasteries that date back to the 10th and 11th centuries. Hence, Dilijan National Park is one of the loveliest and beautiful places in Armenia and its best destination for hikers.
Read More: Top 10 beautiful places in Switzerland
07. Areni Wine Country
Through its name, you can understand that it is a hub of wine. As grapes and vineyards have been cultivated here for over 6,000 years, that's why Areni Wine Country boasts some of the nation's most delicious wines. Besides, it has some fabulous mountainous scenery; the vineyards blanket entire mountainsides and valley slopes, with attractive little farmhouses and wineries punctuating the countryside. This area also has some very interesting sights for you to enjoy. Like you can visit the ancient church of S Astvatsatsin and the Areni-1 Caves, which are the hub to a mesmerizing archaeological site.
06. Lake Sevan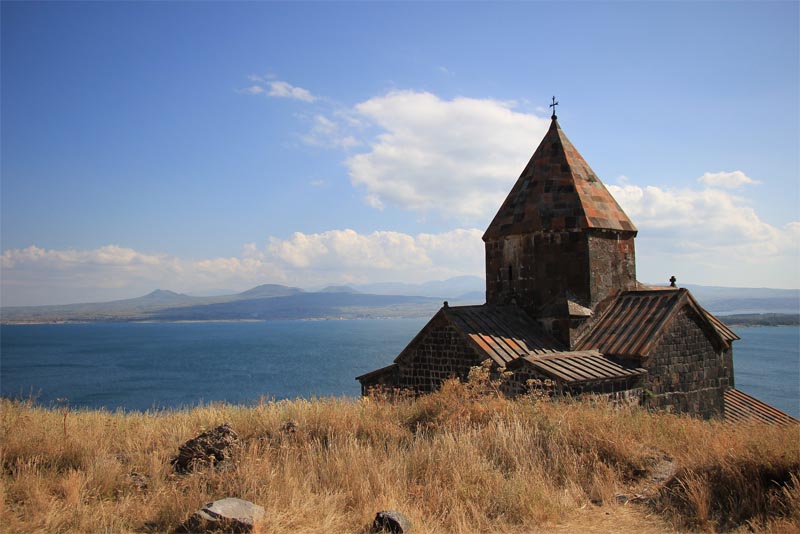 Lake Sevan has found in the heart of Armenia, which counts in beautiful places in the country. It has the largest lake which, is surrounded by some splendid monasteries. Here the most striking of them is the Sevanavank Monastery which, is providing a magnificent scenic background to a relaxing trip. Here windsurfing is among the recreation activities available at the lake, plus, there is a wide choice of excellent seafood restaurants along its coastline. Furthermore, it has several famous beaches in the country which has no coastline. Here you can take sunbathe, with Sevan Bay and its surrounding mountains providing spectacular scenery.
05. Amberd Fortress
Amberd Fortress is one of the most beautiful places to visit in Armenia which, was established in the 7th century. Formerly among the Armenian Kingdom's primary military-defensive points, the fort can be accessed in nearly an hour from the capital city. However, sometimes snowfall can make the fortress inaccessible during the winter months. You can see the breathtaking view at the top of the fortress, while the structure itself is also fabulous.
04. Kapan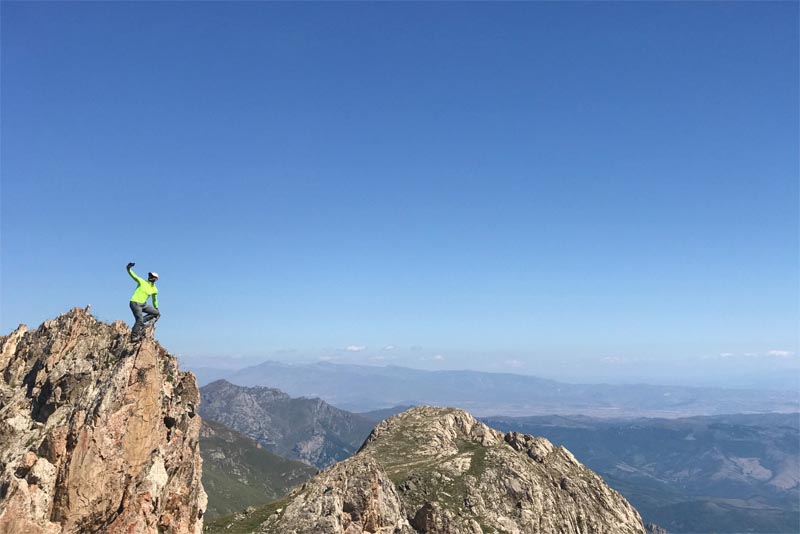 Kapan is the biggest city in Syunik, which is the perfect place for a picnic. You can enjoy the breathtaking natural sights of high mountains, and stunning valleys. Its name has derived from 'kapel,' which means to lock, referring to the interlocking chains of mountains joining in Kapan. Its downtown area is of the most pleasant and beautiful with its calming flourishing parks, water streams, and outdoor cafés. Visitors can also visit the 9th-century monastery, Vahanavank, which is around 7 km away from the town. It counts in the wonderful and beautiful places of Armenia which, was once the religious center for the kings of Syunik.
03. Jermuk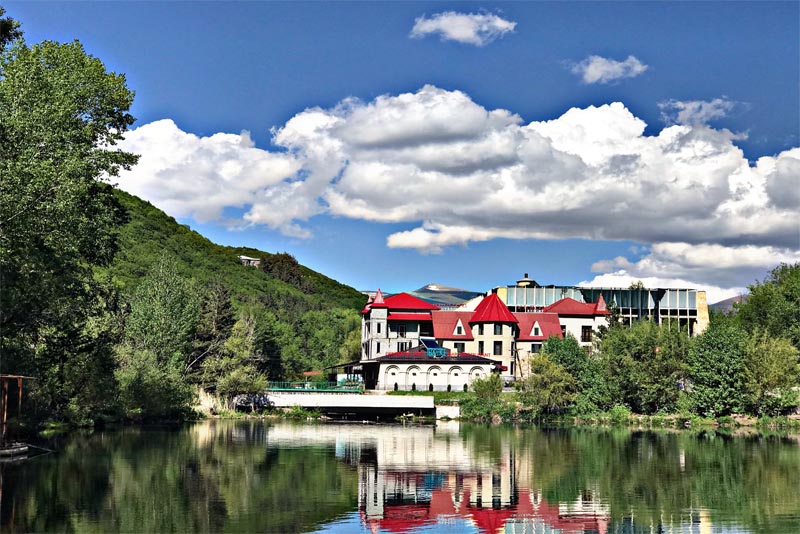 Jermuk is another peaceful little town which is famous due to its mild climate, spectacular nature, and healing mineral waters. Many visitors come here for health treatment purposes that's why it counts in one of the towns for health resorts. You can also visit different water stations where you can get the fresh twinkling water at fluctuating temperatures. There are about 40 hyper-thermal mineral fountains in Jermuk. It is one of the beautiful and attractive places of Armenia and the second-largest water falling area from an altitude of 68 meters.
02. Khndzoresk Cave Village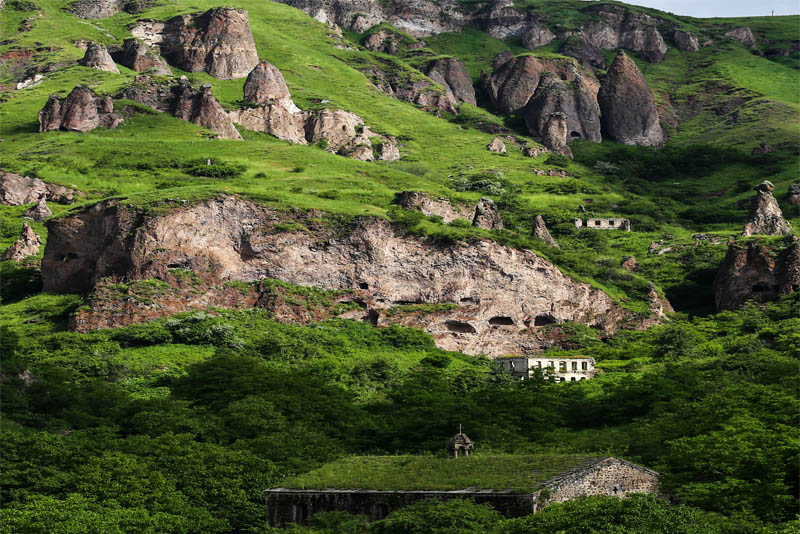 Khndzoresk is a system of cave-dwellings that were populated well into the 20th century. There are approximately 15,000 people are living in the cave-village. Even they had a separate church and three schools within the cave. It is a modern village which has built in the past century, but the caves are open to all tourists. For approaches to the past village, you'll have to pass a 160-meter-long bridge which has made of ropes and cables that shakes with every step.
The climate is mild therefore, you can go here in any season. But it is better to visit it in late spring, summer, or early autumn. You can go there by car in 4-5 hours and can explore many other beautiful places of your interest on the way. It has a waterfall, Bekhi Anapat Monastery, and, of course, the most famous Tatev Monastery, etc.
01. Kond – Old Yerevan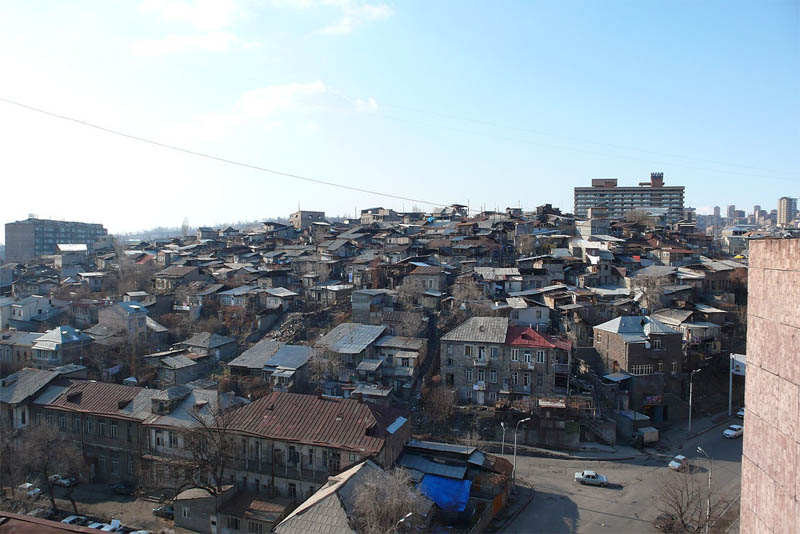 Kond has located at the heart of the modern city. It means "long hill" in Armenian, and it has reserved all the magnificent colors of the ancient city. Here you'll find women sitting together in busy gossip, elderly men, playing "Nardi," and drying food laid under the sun. It is one of the beautiful and different places of Armenia which make you happy during this trip.