Experience the best of Croatia with our curated list of the 10 best things to do in Croatia. Immerse yourself in the rich culture and history of the vibrant capital city of Zagreb, where you'll find a treasure trove of museums, galleries, and delectable dining options. Discover centuries-old harbor towns along the coast with their charming Venetian-era stone buildings and pebble beaches where you can indulge in thrilling water sports like scuba diving, water skiing, and windsurfing.
The Adriatic Sea holds Croatia's serene islands, where yachters can bask in the Mediterranean sunshine or unwind on secluded beaches. For an unforgettable experience, visit Plitvice Lakes National Park, a UNESCO World Heritage Site that boasts stunning turquoise lakes, cascading waterfalls, and lush green forests.
Explore the medieval city of Dubrovnik, a must-see attraction, with its magnificent walls, historic landmarks, and breathtaking views of the Adriatic Sea. Take a trip to the stunning Diocletian's Palace in Split, a Roman-era ruin that will transport you back in time. Make sure to add these top things to do in Croatia to your travel itinerary to experience the very best of this enchanting country.
1. Diocletians Palace in Split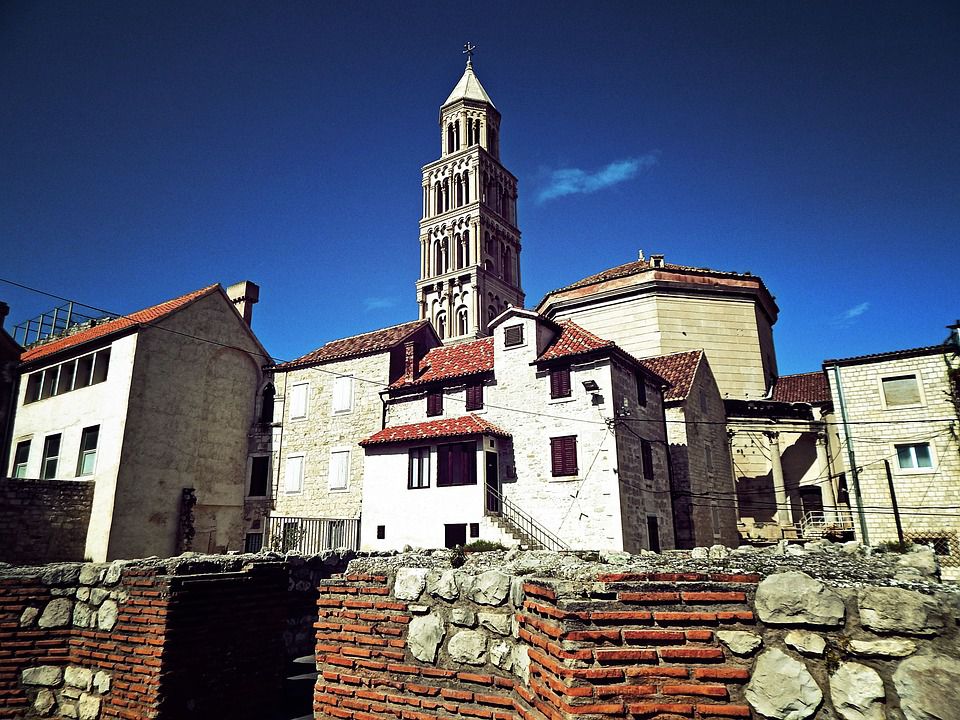 Discover the charm of Split, Croatia's vibrant city that offers a perfect mix of history, culture, and nature. The city's centerpiece is the magnificent Diocletian's Palace, a UNESCO World Heritage Site that was built by the Roman Emperor Diocletian in AD 305. This square-shaped palace is more of a fortress, with four monumental gates, and served as the Emperor's personal garrison.
Explore the palace's awe-inspiring Peristyle, an arcaded courtyard, which leads to the stunning Cathedral of St. Domnius and its elegant bell tower. Admire the palace's illuminated ruins at night, or enjoy the frequent concerts and entertainment during the day.
Step into the Old Town, a pedestrian-only zone that boasts charming cafes, restaurants, and shops. Stroll around and experience the city's rich history and culture, and don't forget to snap a few pictures of the picturesque streets.
For nature lovers, head to Marjan Hill, a verdant oasis that offers breathtaking views of the Adriatic Sea and the cityscape. Also, take a dip at Bačvice, the city's most famous sandy beach.
Don't miss these best things to do in Croatia's Split: Diocletian's Palace, Peristyle, Cathedral of St. Domnius, Marjan Hill, Bačvice beach, Old Town, Gregory of Nin statue, Croatian National Theater, Marmont Street, and the Fish Market.
Read More: Top 12 Interesting facts about Croatia
2. Plitvice Lakes National Park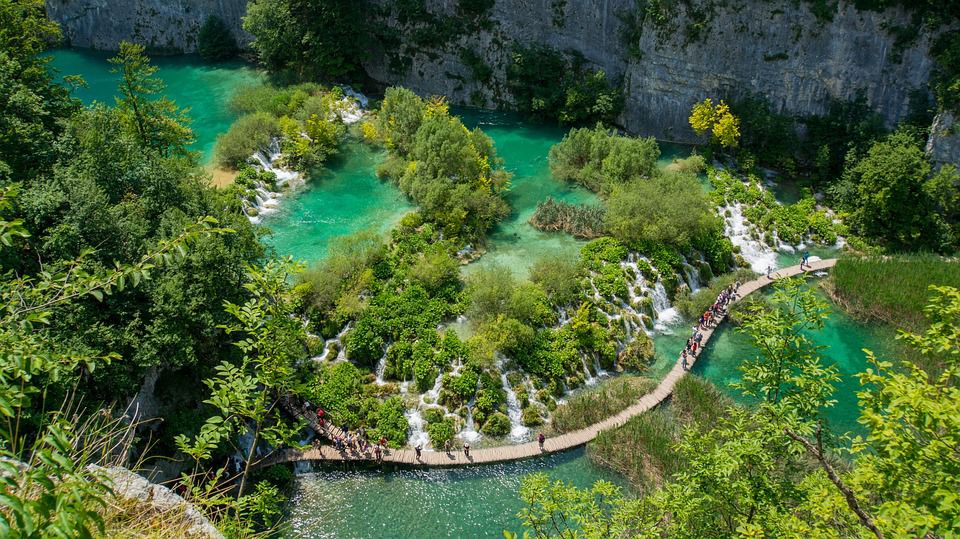 Looking for an escape to nature? Look no further than Croatia's Plitvice Lakes National Park, home to 16 interconnected lakes, surrounded by stunning forested hillsides and cascading waterfalls. As Croatia's first national park, it's no surprise that Plitvice Lakes is the country's most visited inland attraction.
Walking through the park's network of footpaths and wooden bridges is an adventure in itself, and with the entrance ticket, you can take boat rides across the pristine lakes. Don't be surprised if you spot some of the park's wild residents, including wolves, bears, and birds of prey like owls, eagles, and falcons.
Make your stay even more memorable by spending the night in one of the several hotels located on the park's edge. With over a million visitors a year, it's no wonder Plitvice Lakes is a top spot to visit in Croatia. So pack your bags and head out to explore one of the best things to do in Croatia.
3. Zagrebs Gornji Grad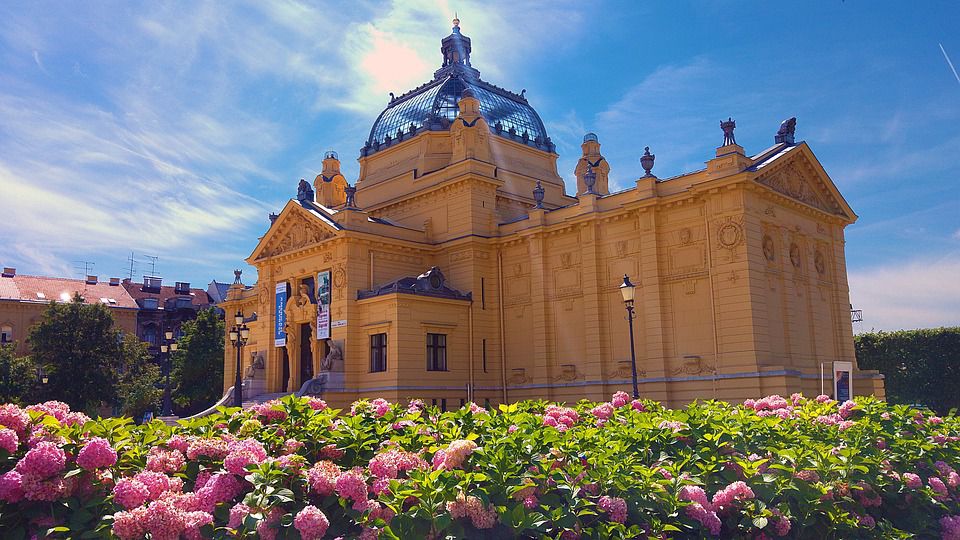 Zagreb, the charming capital city of Croatia, boasts many remarkable sights, but the medieval Gornji Grad (Upper Town) district is the hub of its popular tourist attractions. No wonder it has made it to the list of the best things to do in Croatia.
Stroll around the area and feast your eyes on the neo-Gothic facade, twin steeples, and treasury of the cathedral, which houses a vast collection of religious artifacts and art. Another must-visit spot is the Croatian Parliament. Don't miss out on the unusual yet intriguing Museum of Broken Relationships, which is a favorite among most visitors.
Experience the old-world charm of Gornji Grad, with its cobbled streets, historic buildings, and stunning architecture. Exploring this area of Zagreb is an unforgettable experience and one of the top things to do in Croatia.
4. Sailing Around Kornati National Park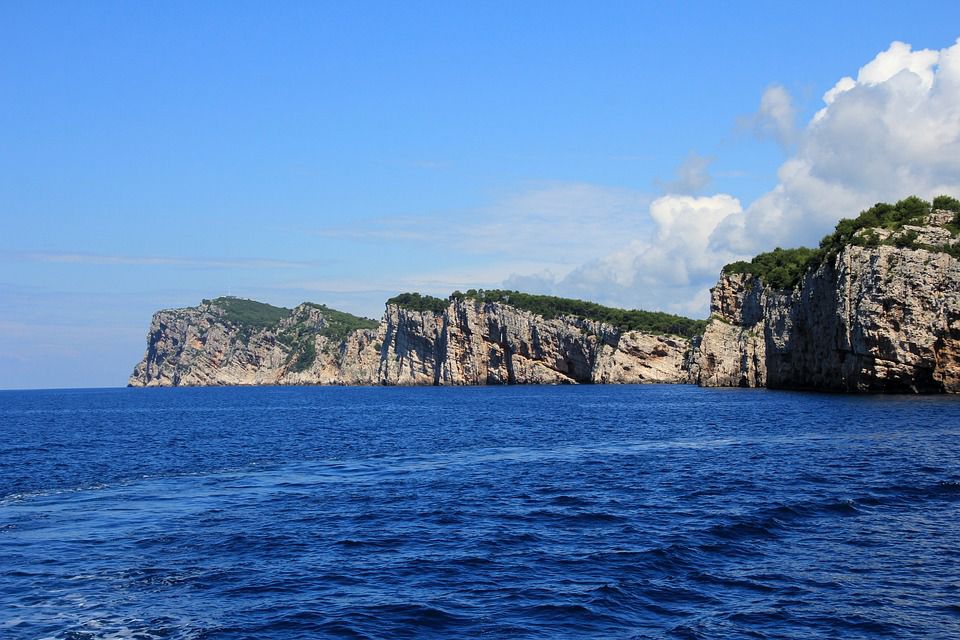 If you are planning a trip to Croatia, make sure to add the Kornati Archipelago to your must-visit list. Spread across 320 square kilometers, this breathtakingly beautiful region comprises 89 islets of various sizes. Though the islets are rocky and arid, they are practically uninhabited except for a few basic stone cottages built by fishermen and shepherds. These cottages now serve as holiday retreats and seasonal seafood restaurants.
Exploring the Kornati Archipelago is best done on a private sailing boat, with the nearest charter base located in Biograd Na Moru. Just be sure to purchase a valid permit online beforehand. With its crystal-clear waters, stunning vistas, and rich history, it's no wonder that it's one of the best things to do in Croatia.
5. Zadars Romanesque Churches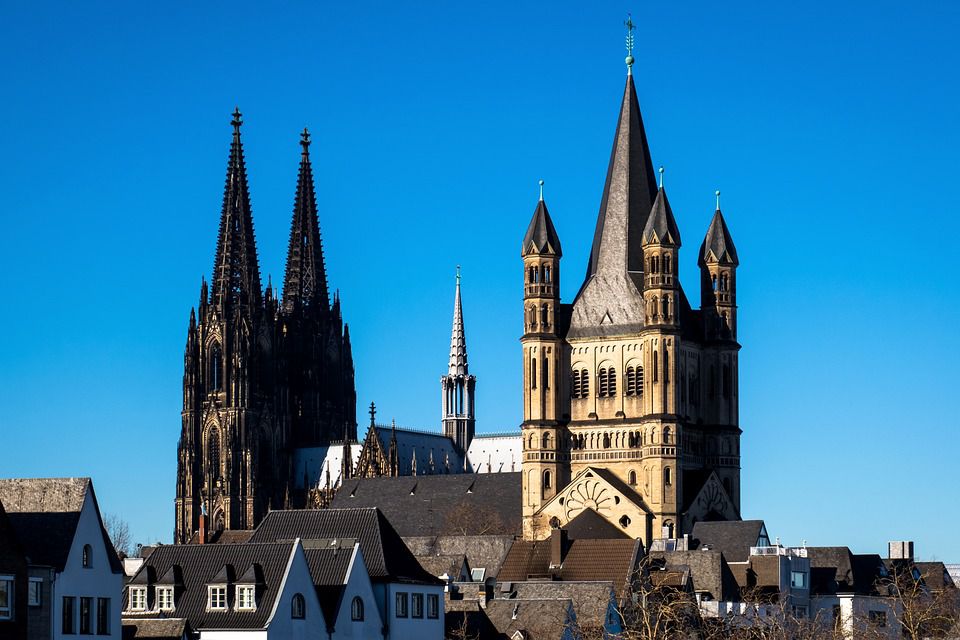 Zadar's car-free Old Town is a must-visit when exploring the Dalmatian coast of Croatia. The city has a rich history, dating back to the Stone Age, making it the oldest continually inhabited city in the country.
For a more modern twist, check out the Museum of Ancient Glass, and don't miss the chance to experience two unique installations on the seafront – the Sea Organ and the Greeting to the Sun.
If you are looking for a way to unwind, head over to picturesque Kolovare Beach. Don't miss the chance to explore this incredible city and experience its rich history and culture.
6. The Old Town Of Dubrovnik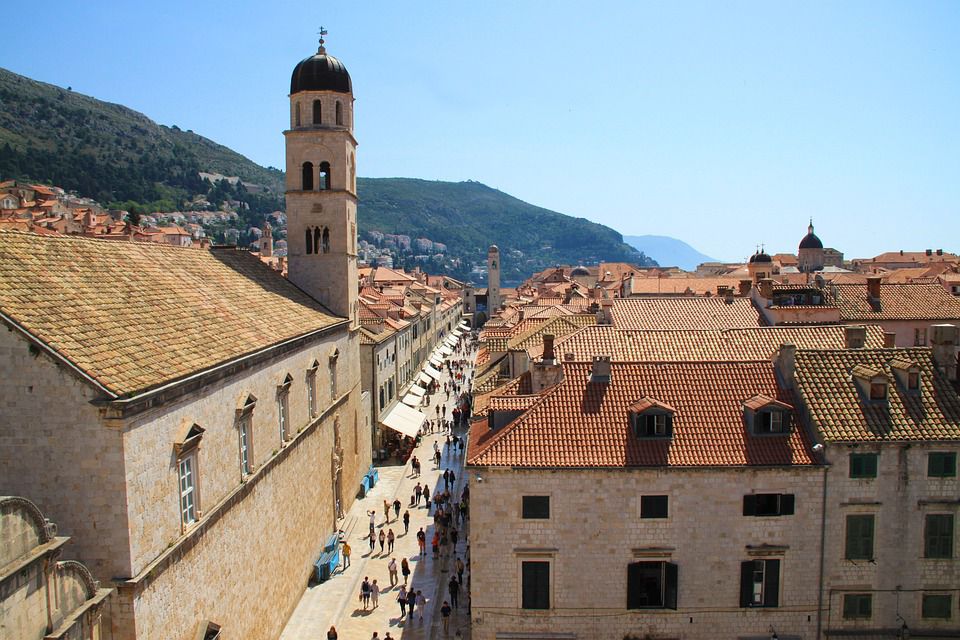 Discovering the wonders of Dubrovnik's Old Town is one of the top things to do in Croatia. Walking through its maze-like alleys, passing by charming red-roofed houses, and admiring the breathtaking view of the Adriatic sea, Dubrovnik is indeed a pearl in Croatia's crown.
With a rich and fascinating history dating back to the 7th century, Dubrovnik boasts of historical landmarks like the impressive City Walls and the UNESCO World Heritage Site, Old Town. Game of Thrones enthusiasts will also recognize King's Landing, and can even go on a thrilling Game of Thrones tour, immersing themselves in the show's famous filming locations.
But that's not all, the fun doesn't end there! One can take a stroll along the Stradun, the city's famous main street, and enjoy the lively atmosphere of local cafes, bars, and restaurants. For beach lovers, the nearby Banje Beach offers stunning views of the Old Town and crystal-clear waters.
Lastly, for those seeking adventure, a hike up Mount Srd is a must-do, where visitors can catch the most breathtaking views of Dubrovnik's landscape. These are just a few of the best things to do in Croatia, which will undoubtedly make your trip unforgettable.
7. Spend Some Quiet Time In Medvednica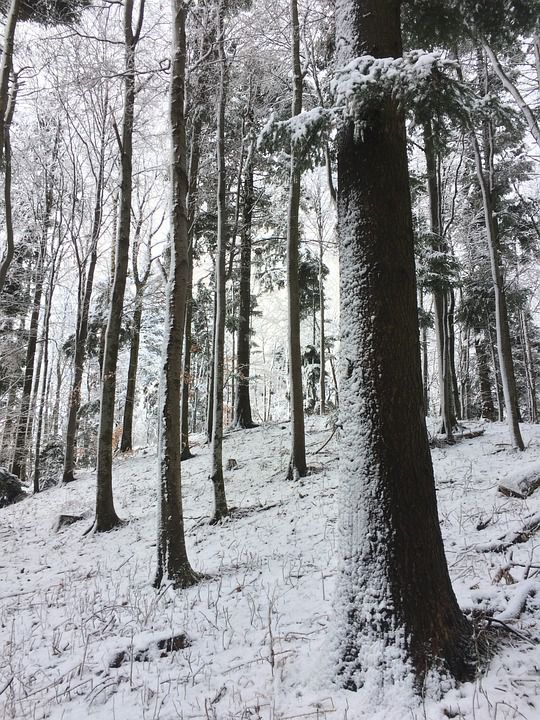 Looking for a peaceful escape from the bustling streets of Croatia's capital? Look no further than Medvednica, a stunning mountain range located just 30 minutes away from Zagreb's city center.
While Zagreb boasts of many exciting events and festivals, including book fairs, football festivals, and exhibitions from world-renowned artists, Medvednica is undoubtedly one of the best things to do in Croatia. With October being the perfect time to visit, nature enthusiasts can indulge in breathtaking views of the colorful autumn foliage. Hikers can also take on the challenge of scaling its peaks, while cyclists can explore the mountain's many trails.
Medvednica is also home to a variety of wildlife, including brown bears, wolves, and wild boars, making it a great destination for wildlife lovers. So why not take a break from the hustle and bustle of city life and explore the natural wonders of Medvednica? It's sure to be an unforgettable experience.
8. Discover Croatia Winter Wonderland: Frozen Waterfalls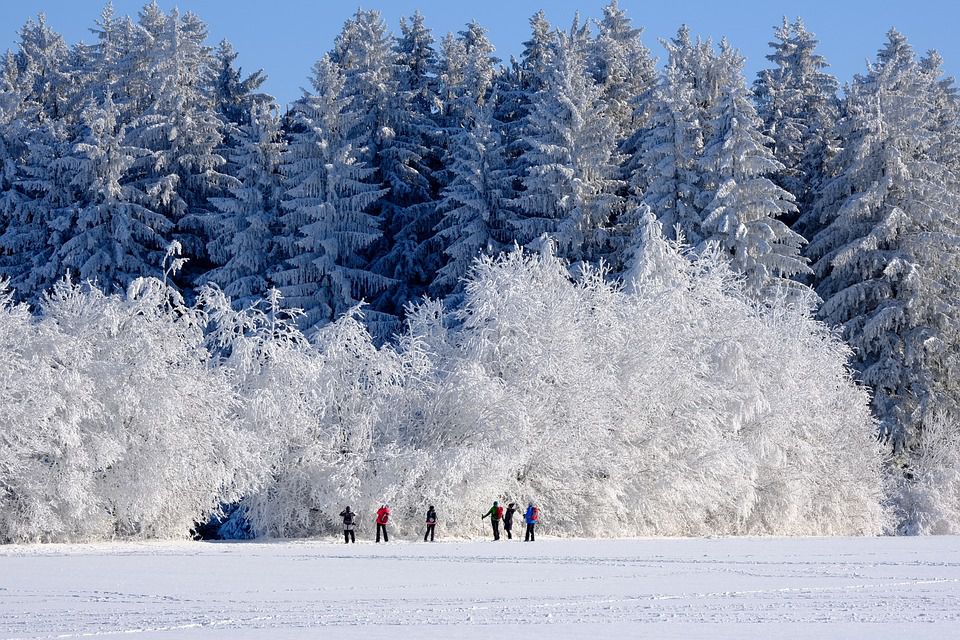 Croatia is known for its summer allure, but did you know that it also boasts a magical winter wonderland? One of the best things to do in Croatia during winter is to witness the frozen waterfalls of Plitvice Lakes National Park. The park's scenic trails are transformed into a magical winter wonderland, offering a fairy-tale-like experience for visitors.
Aside from being one of the most mesmerizing sights in the country, the frozen waterfalls are also one of the best free things to do in Croatia. So why not bundle up, grab your camera, and witness the real-life version of the movie "Frozen" in this winter paradise? Don't miss out on the opportunity to witness Croatia's winter wonderland and add the frozen waterfalls of Plitvice Lakes National Park to your travel bucket list.
9. Join the Festivities at Maskare Festival: Croatian Carnival Celebration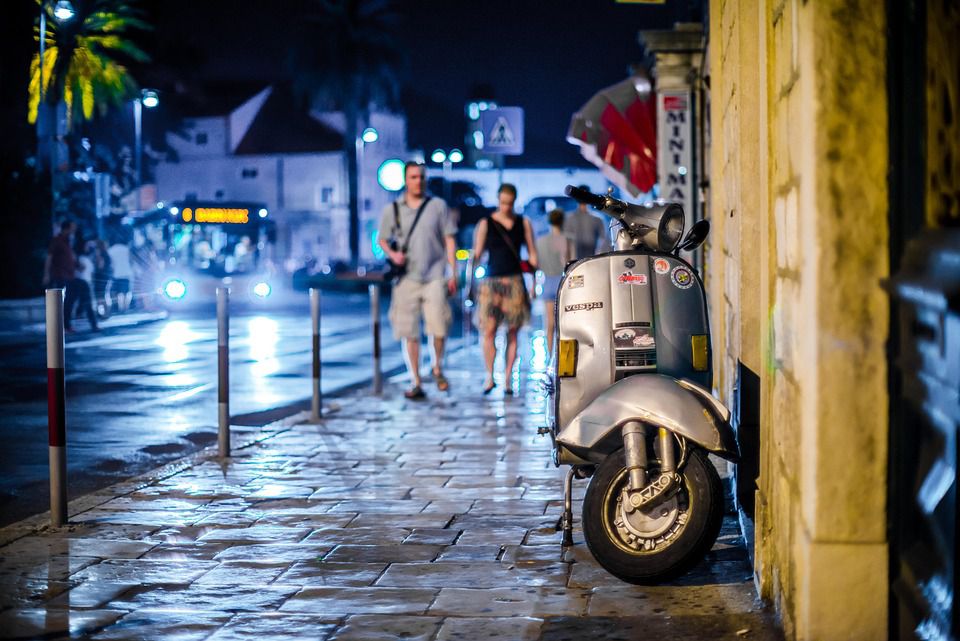 If you are looking for a unique and exciting way to experience Croatia's culture, look no further than the Maskare Festival. Taking place every February, this colorful carnival celebration is one of the best things to do in Croatia during the low season.
The carnival, also known as Croatia Carnival, has a long history that dates back to ancient times when people used ferocious masks to ward off evil spirits. Today, it has evolved into a joyous and lively celebration that brings together people from all over the country, regardless of age.
Visiting the Maskare Festival is a fantastic way to witness one of Croatia's most beloved traditions and experience the country's vibrant and lively spirit. The carnival's festive atmosphere is infectious, with lively music, parades, and dazzling costumes that will leave you spellbound.
So don't miss out on the chance to experience the charm of the Maskare Festival, one of the best things to do in Croatia during the low season. Join the festivities and immerse yourself in Croatia's rich cultural heritage.
10. Relax and Rejuvenate: Soak in Croatia's Hot Natural Springs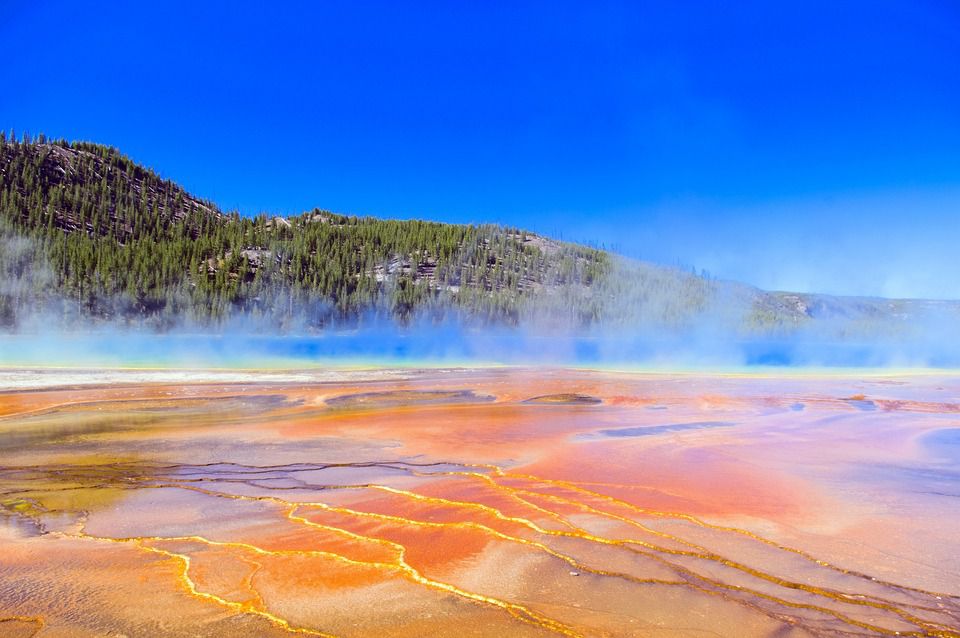 While Croatia may be known for its stunning beaches and azure waters, the country also offers a relaxing winter getaway at its natural hot springs. Soaking in warm, mineral-rich waters is one of the best things to do in Croatia during the colder months.
Many of the thermal spas that feature these hot springs have been in operation since ancient Roman times, providing a unique opportunity to experience history while enjoying the natural benefits of the hot springs.
The thermal waters are believed to offer therapeutic benefits for a range of ailments, making them the perfect winter escape. These stunning locations offer a tranquil and rejuvenating escape from the stresses of everyday life.
If you are looking for a unique way to unwind during your visit to Croatia, don't miss out on the opportunity to soak in the country's hot natural springs.