As we all know hair loss is a common and one of the most major problem for both male and females. Different products and treatments are available for dealing with this problem. Both surgical and non-surgical treatments are available and they are very effective and the majority of people get amazing results. In non-surgical treatments, PRP is very famous and show really good results. But all of these treatments are expensive. Dihydrotestosterone (DHT) is the main factor that causes hair loss and thinning of hairs is also due to this main male hormone.
Basically, DHT is very important for our whole body but when the body produces an excess amount of testosterone and that hormone convert to DHT. This excess DHT then stuck with hair follicles and start shrinking the pores and as a result male pattern and female pattern baldness occurs. So many people have a common question can me delay this process with natural foods. The answer is yes, using nutrients from pure and natural foods can help to delay this process. Eating sufficient amount of DHT blocker foods will help you to prevent hair loss and also to reverse it.
There are many medicines available in the market that treat elevated DHT levels like Finasteride, Proscar and Propecia. These medicines are known as very effective and show good results but can cause side effects among a variety of users. Many DHT blocker foods exist that can prevent hair loss if you add them in your daily routine. When you have natural DHT blocker foods then why wasting time and money on taking different medications. Food is the basic thing your body needs and if your diet is good and healthy then your skin, hairs and nails etc are definitely will be healthy. We make a list of different easy to access DHT blocker foods that will really help without any side effects. At the end of this article, a very beneficial smoothie recipe has also been included that you can easily use to combat your problem.
Pumpkin Seeds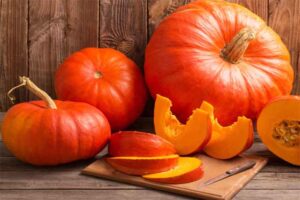 Pumpkin seeds are very beneficial in treating this problem because they contain a steroid known as Delta-7 stearine which effectively blocks the entrance of DHT in hair follicles.
Fruits and Vegetables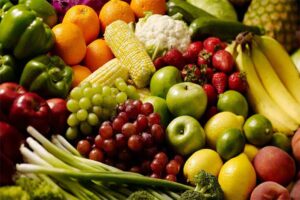 Watermelon, mangoes, tomatoes, carrots are rich in Lycopene which naturally stop dihydrotestosterone and also inhibit 5 alpha reductase, the enzyme due to which testosterone converts into dihydrotestosterone.
Dry Fruits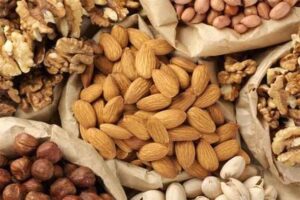 Peanuts, Almonds, Pecans, and Walnuts are rich in L-Lysine which also perform the same work.
Zinc
When the discussion is about zinc the first thing came into mind is spinach because it contains a very high amount of zinc which is very important for strengthening hairs. Other foods that are rich in zinc are a wheat germ, kale, cooked white mushrooms, and cashews.
Biotin
Biotin plays an important role in conditioning the scalp and skin as well. Hairs need a healthy environment to grow. Biotin is also essential for the formation of many fatty acids and DHA which is important for healthy hairs, brain, eyes and more.
Berries, bananas, eggs (cooked), peanuts, wheat germ, salmon, tuna and legumes are rich in biotin and adding them in daily diet will provide amazing results.
DHT Blocking Smoothie Recipe: This recipe is too simple, tasty and the most important thing it is very beneficial because it almost contains all those nutrients that are essential for the growth of hairs.
Add following ingredients in your blender.
Frozen Berries: Blueberries or Strawberries
Healthy Greens: Spinach, Swiss chard, Parsley
Pumpkin Seeds
Choose one of them Tomatoes, mangoes or watermelon each of them contain Lycopene
Apple juice, Orange juice or Soy Milk
Honey or Maple Syrup.
Mix all the ingredients well and drink in daily in order to improve your hairs. All of these ingredients are natural so there is no chance of any side effects.