When you hear the word "Barbados," images of beautiful palm trees, crystal-clear waters, and sandy beaches may come to mind. The island is famous for its stunning beaches, which range from serene stretches of sand ideal for swimming to secluded bays and rugged coastlines that attract surfers and kiteboarders. Barbados boasts some of the world's best beaches, each with its unique appeal, so it's essential to know what you're looking for before setting out to discover the perfect spot.
If you're looking for a peaceful escape, the tranquil beaches of the west coast offer a sense of seclusion and calm. In contrast, the south coast's livelier beaches are perfect for water sports enthusiasts. The east coast's rugged beaches offer breathtaking views and are ideal for surfers and hikers. Overall, Barbados is a beach lover's paradise, with something for everyone to enjoy.
1. Best Beaches in Barbados: Discover the Stunning Carlisle Bay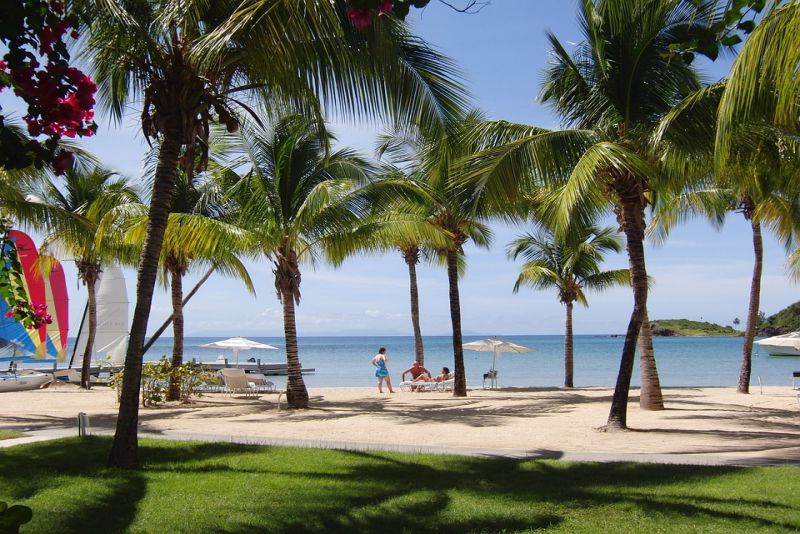 Carlisle Bay is a true gem among the best beaches in Barbados. Located just five minutes from the downtown area of Bridgetown, the capital city, it boasts a spectacular coastline that attracts visitors from all over the world.
This stunning bay is home to three of the most popular public beaches on the island – Brownes Beach, Bayshore Beach, and Pebble Beach. Each of these beaches offers pristine white sand, crystal clear water, and breathtaking views.
What's more, the green space behind the beaches is perfect for a picnic, while Pebble Beach also offers washrooms and showers. Whether you're looking to relax and soak up the sun or enjoy water sports like snorkeling, swimming, or paddleboarding, Carlisle Bay has something for everyone. So, pack your bags and head to one of the best beaches in Barbados for an unforgettable vacation experience.
Read More: 10 Best Beaches In The Bahamas
2. Discover the Secluded Beauty of Bottom Bay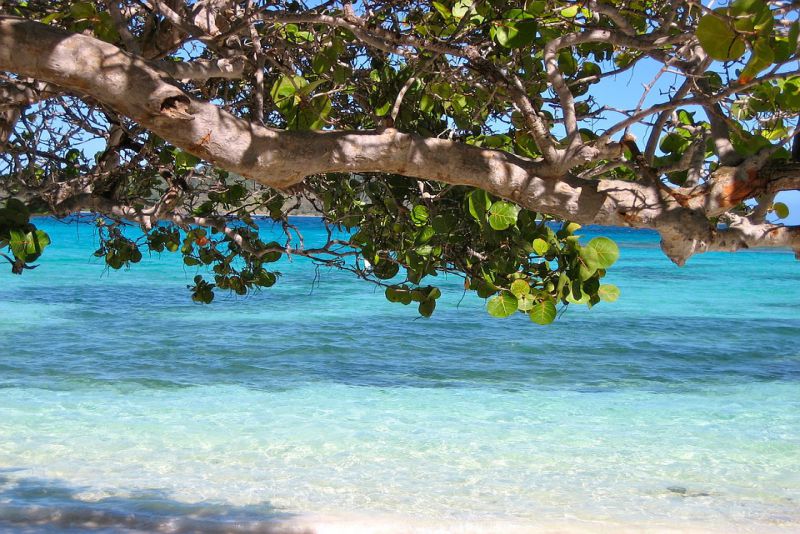 Escape the hustle and bustle of the popular tourist spots in Barbados and head to Bottom Bay, one of the island's hidden gems. Located on the southeast coast, this beach boasts a serene atmosphere with powdery white sand and crystal clear waters.
Bottom Bay is surrounded by high coral cliffs, which add a dramatic touch to its natural beauty. A cluster of palm trees creates an oasis-like setting, where you can relax and soak up the Caribbean sun in peace. Unlike the more developed beaches on the island, Bottom Bay remains unspoiled, providing an authentic island experience.
Take a dip in the refreshing waters or stroll along the beach to discover hidden coves and rock pools. Don't miss out on this picturesque beach, which is one of the best beaches in Barbados.
3. Discover the Best Beaches in Barbados: Experience the Beauty of the Southeastern Coast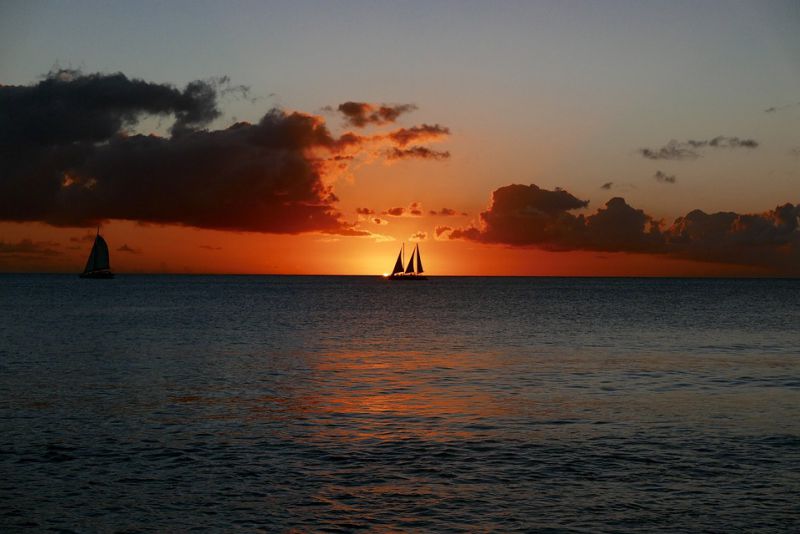 This stunning beach is ideal for surfers and boogie boarders, thanks to its legendary surf. But that's not all – the coastal coves also provide sheltered swimming near the harbor, making it a perfect spot for families with children.
With crystal clear waters and breathtaking views, this beach is perfect for snorkeling and swimming, too. So, if you're looking for the best beaches in Barbados, head to the southeastern coast and enjoy the beauty of this picture-perfect paradise.
Don't miss the opportunity to experience the irresistible natural beauty of this beach – it's truly a must-see destination for any beach lover.
4. Experience the Paradise of Rockley Beach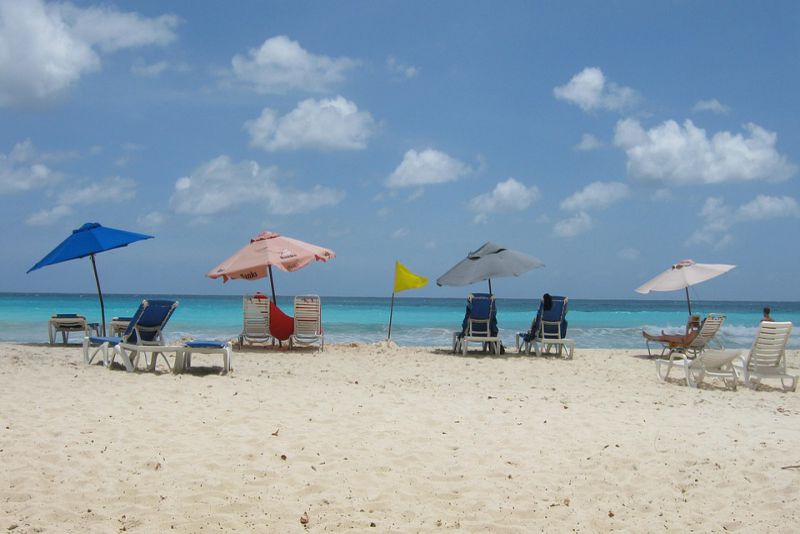 Discover the stunning beauty of Rockley Beach, also known as Accra Beach, one of the most popular beaches in Barbados. With its picturesque crescent-shaped sugary white sand and clear blue waters, it's no wonder why this beach is almost postcard-perfect.
Rockley Beach is a great spot for swimmers of all abilities, thanks to its warm shallow waters. You can relax under the shade of casuarina and sea grape trees while enjoying a refreshing drink from the lively retail area just off the beach. Rent a boogie board or surfboard to catch some waves or take to the waters with a Hobie Cat or Sunfish monohull sailboat.
Whether you're looking for adventure or just want to bask in the Caribbean sun, Rockley Beach has something for everyone. This beach is undoubtedly one of the best beaches in Barbados, and a must-visit during your stay on the island.
5. Best Beaches in Barbados: Accra Beach – A Family-Friendly Haven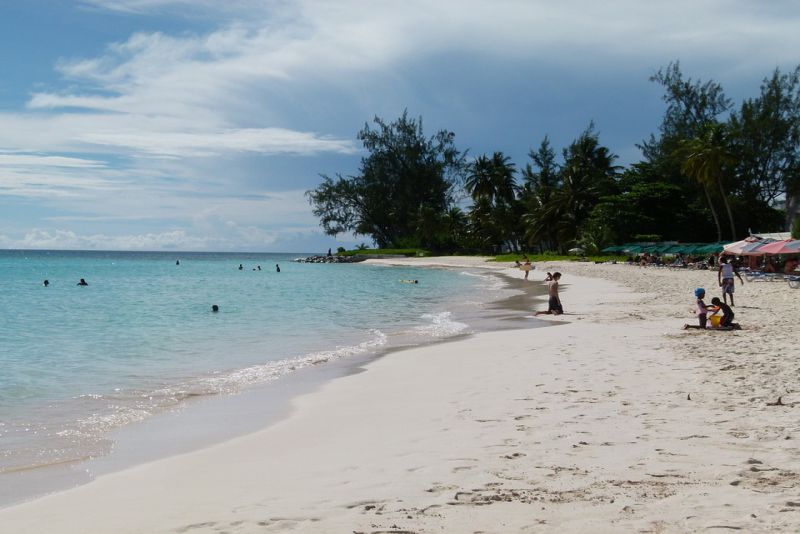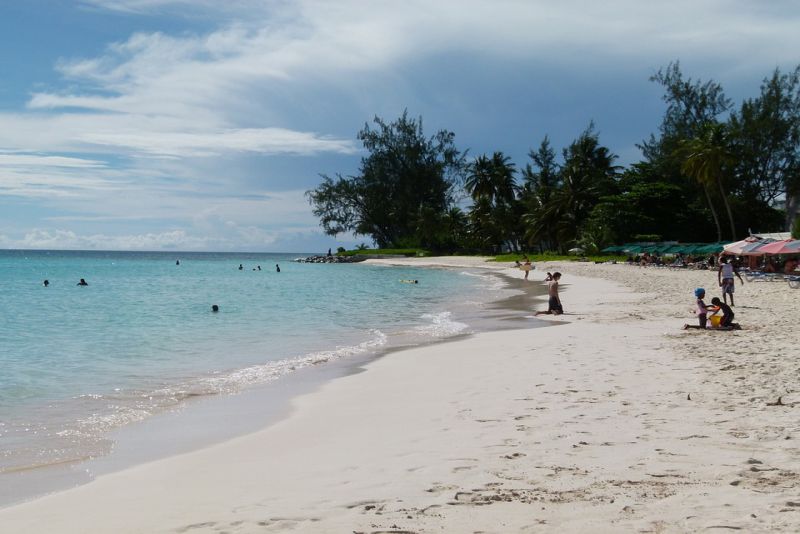 If you are looking for a perfect family vacation spot in Barbados, Accra Beach should be your top pick. With its soft and silky sands and crystal-clear turquoise waters, this south coast beach is undoubtedly one of the best beaches in Barbados.
Accra Beach is a family-friendly haven that provides the perfect spot for both adults and children to enjoy. Its shallow blue waters and sheltered swim areas make it the ideal beach for swimming in Barbados. Moreover, Accra Beach offers various activities like jet-skiing, banana boating, and parasailing that families can enjoy together.
If you're not in the mood for water activities, you can relax under the swaying palm trees and take in the breathtaking views. Also, don't forget to explore the vibrant nightlife, restaurants, and bars located near the beach.
6. Bath Beach – Barbados Secluded Haven for a Refreshing Escape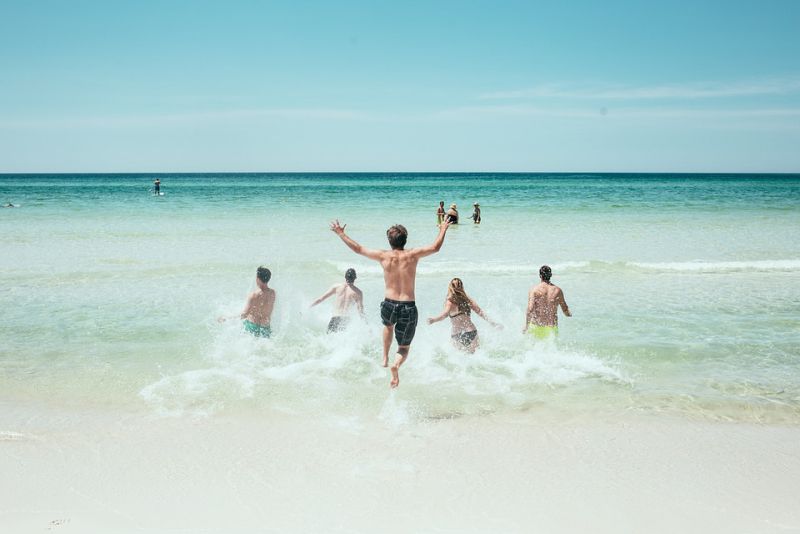 Nestled along Barbados' rugged eastern shoreline, Bath Beach is a secluded haven of tranquility. This beach is a popular spot for locals who flock here to relax under the shady trees and relish in the cool Atlantic breeze. Bath Beach's unique feature is its protective reef, which forms a series of pools along the shore. These pools offer a safe and calm place to take a refreshing dip in the sea, making it one of the best beaches in Barbados to go swimming.
Visitors to Bath Beach can also take in the stunning natural surroundings, including the breathtaking views of the Atlantic Ocean. So, come and experience the peaceful ambiance and breathtaking beauty of Bath Beach – one of the best beaches in Barbados!
7. Discover the Best Snorkeling Spot at Folkestone Beach, Barbados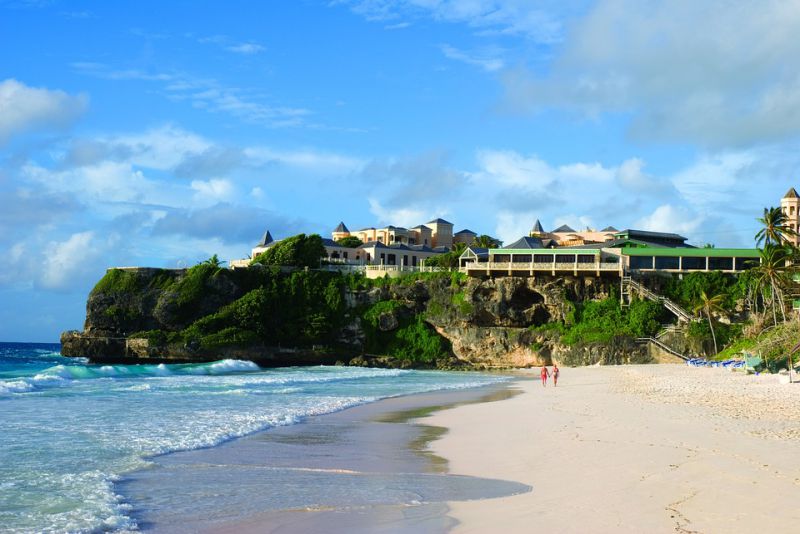 Looking for the best beaches in Barbados that offer both relaxation and adventure? Look no further than Folkestone Beach! This picturesque beach, located near Holetown, boasts stunning golden sands and a serene shady park perfect for a leisurely stroll.
But what sets Folkestone Beach apart from the other beaches in Barbados is the exceptional snorkeling opportunities it offers. With crystal clear waters and thriving marine life just a few feet offshore, it's the perfect spot for both beginner and experienced snorkelers to explore the underwater world.
Apart from snorkeling, you can also indulge in other water activities such as jet skiing, kayaking, and paddleboarding. So pack your beach bag, grab your snorkeling gear, and head to Folkestone Beach for an unforgettable day in the sun!
8. Silver Sands Beach – Barbados Thrilling Kiteboarding Destination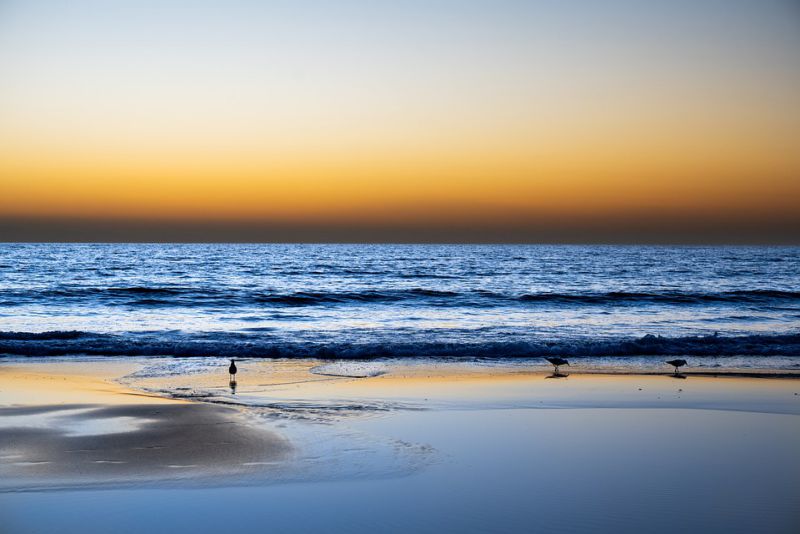 For adventure seekers and kiteboarding enthusiasts, Silver Sands Beach is a must-visit destination in Barbados. As one of the best beaches in Barbados for kiteboarding, this beach boasts steady and strong side onshore winds, perfect for high-speed kiteboarding. Watch as kiteboarders race along the shoreline or launch themselves into the air, showcasing their skills and acrobatic tricks.
Apart from kiteboarding, Silver Sands Beach is also a popular spot for photography enthusiasts. The dramatic contrast of the bright blue sea against the white sandy beach and the colorful kites in the sky makes for a perfect photo op.
Located on the southern coast of Barbados, Silver Sands Beach is a hub for adventure and excitement. So, come and witness the thrilling kiteboarding action and soak up the beauty of Silver Sands Beach – one of the best beaches in Barbados.
9. Experience the Secluded Charm of Shark Hole, One of the Best Beaches in Barbados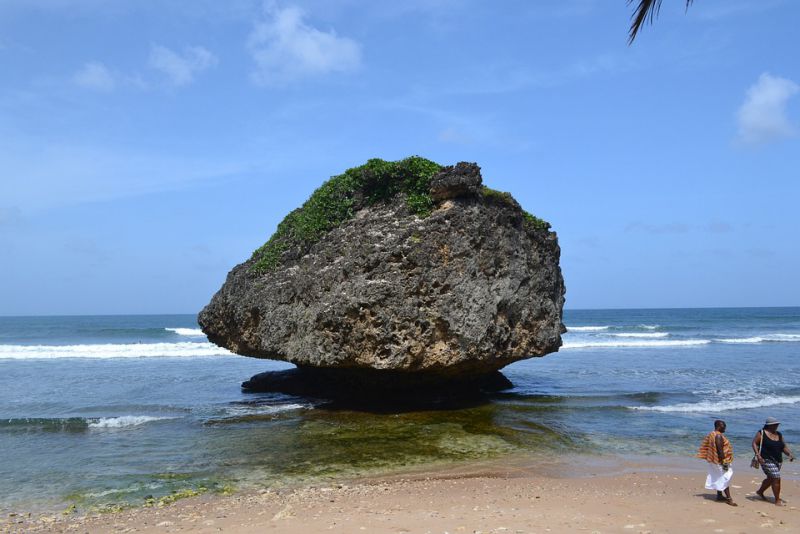 Looking for a hidden gem among the best beaches in Barbados? Make your way to the secluded Shark Hole! Nestled beneath a well-manicured housing development on the island's south coast, this picturesque inlet is like a private saltwater pool that beckons swimmers and sun seekers.
With calm waters gently lapping at the soft sands and rocky outcrops on either side, Shark Hole is an ideal spot to relax and soak up the sun in a serene atmosphere. Plus, its unique location makes it a favorite among the glitterati seeking an exclusive escape from the crowds.
Although small, Shark Hole is big on natural beauty and charm. Don't forget to bring your snorkeling gear to explore the vibrant marine life in crystal clear waters. So, head to Shark Hole, one of the best beaches in Barbados, for an unforgettable experience that is sure to leave you rejuvenated and refreshed.
10. Best Beaches in Barbados: Needham's Point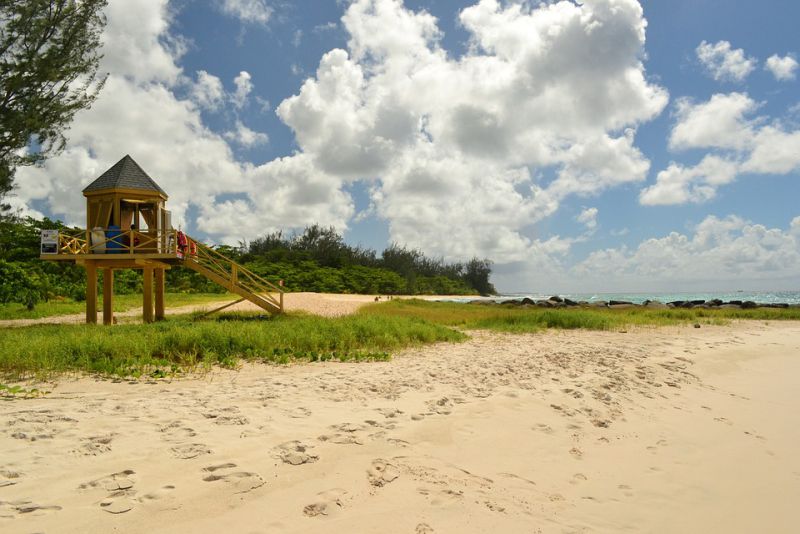 Needham's Point is one of the best beaches in Barbados, located at the south end of Carlisle Bay.
The area boasts three incredible beaches that face two different directions, each with its own unique features. The beach closest to the lighthouse is ideal for swimming and sunbathing, while the one beyond the lighthouse is perfect for surfing and water sports. The beach near the ruins at Needham's Point is a hidden gem with crystal-clear waters, perfect for snorkeling.
The two beaches closest to the hotel are protected by a large stone breakwater, making them calm and safe for swimming. With a range of activities available, including water sports, beach volleyball, and beachside bars, Needham's Point is a must-visit destination for anyone looking to experience the best beaches in Barbados.